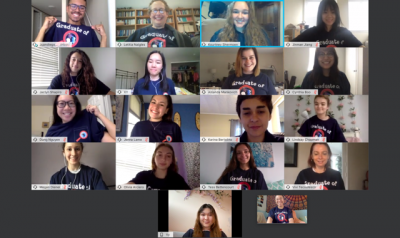 Unprecedented times call for unique circumstances and despite not being together for the annual end-of-year lab party, our lab decided to celebrate virtually! We all shared yogurt covered pretzels and Letty read the ritual reading. Congratulations to the seniors- Tess, Megan, Jinman, Jenna, Anneliese, and Kourtney  for graduating!!
Tess will be getting a master's in Speech Pathology to be a speech language pathologist, starting January 2021.
Megan plans on obtaining her MSW degree from UConn Hartford beginning in the fall.
Jinman will be enrolling in a graduate program at the University College London.
Jenna will be attending Teachers College at Columbia University for her masters in Communication Sciences and Disorders with a bilingual extension program.
Anneliese will be starting medical school at the University of Vermont Larner College of Medicine in the fall.
Kourtney is going to pursue a masters in education, specialty in special education teaching and secondary mathematics from Johns Hopkins University in the fall.